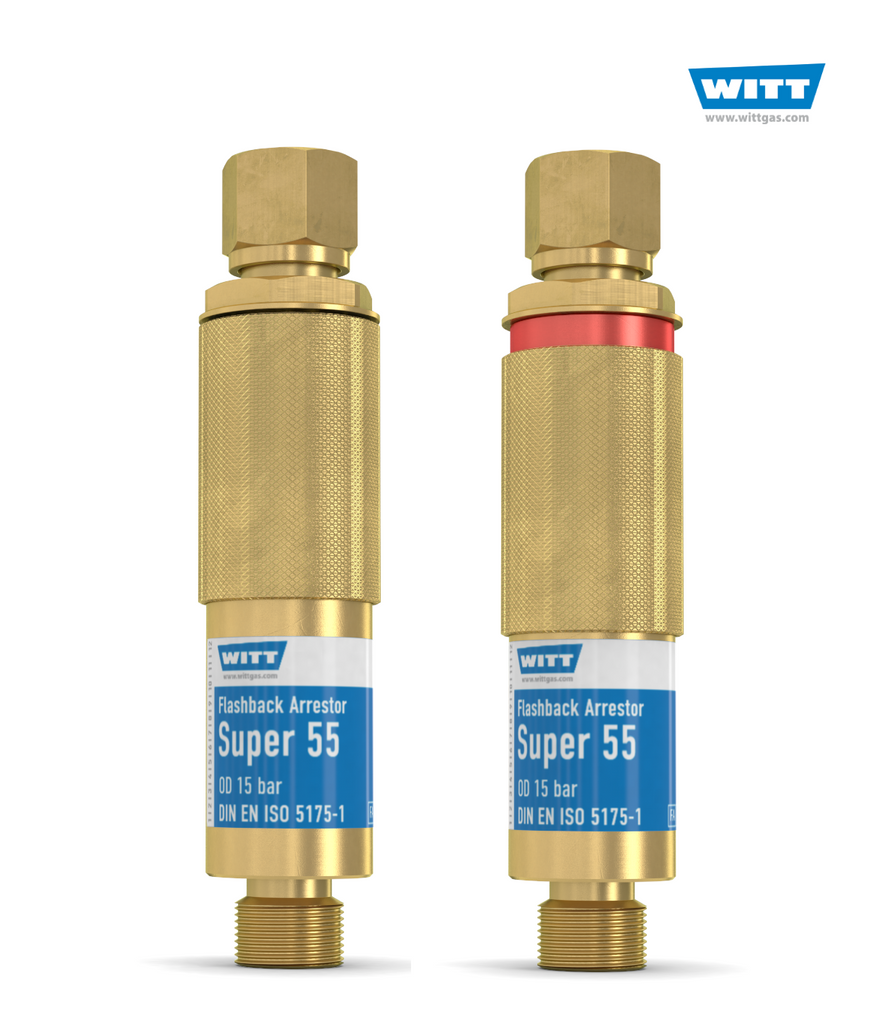 Resettable Collar Oxygen Flashback Arrestor Welding - Super55 Right Hand Thread
---
From the product range "Super", one of the best flashback arrestors in the world. For reliable protection against dangerous gas backflow and flashback in accordance with DIN EN ISO 5175-1. Every Arrestor 100% tested.


Extinguish dangerous flashbacks with sintered stainless steel elements. I
mmediately cut off the gas supply, and therefore prevent dangerous further work after any flashback or gas backflow via pressure sensitive cut-off valve. E
xtinguish sustained backfire – via temperature-sensitive cut-off valve. A
void the formation of explosive mixtures in the gas supply – via non-return valves. I
ndicate flashbacks and gas backflow optically – via red alarm mark. A
llow simple resumption of work after the cause of hazard has been removed – via resetting the sleeve. O
ffer long service life due to protection against dirt – via filter at gas inlet.
Operation / Usage:
The Flashback Arrestors are used against gas backflow and flashback at pipeline outlets and single cylinder equipment. T
he Flashback Arrestors can be installed independent of the orientation but according to gas flow. E
ach blowpipe should have its own Flashback Arrestor. T
he maximum ambient / working temperature is 70 °C / 158 °F
Specifications

Highest quality from the world market leader

Safety elements: flame arrestor [FA], temperature-sensitive cut-off valve [TV], non-return valve [NV], filter on gas inlet, plus pressure sensitive cut-off valve [PV]

Stops supply of fuel gas in case of flashback and shows warning signal, easy recommissioning

Every arrestor 100% tested

BAM certified

27,5 X 124 mm

Acetylene max. 10 m³/h (free flow-off)

Fuel gases max. 60 m³/h (free flow-off)

Oxygen max. 95 m³/h (free flow-off)
---
Share this Product
---
More from this collection